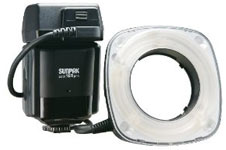 The Sunpak Auto 16R pro is compatible with digital SLRs and 35mm SLR cameras
There are four compact, white LED lights which can provide autofocus assistance or can be used as a modelling lamp for manual focusing.
The flash has a wide range of uses, from extreme close-up shots, such as oral close-ups or medical-use shots to portrait shots. The circular flash tube snaps on to your camera lens to eliminate shadows. It also comes equipped with the flash auto function.
It has a guide number of 16 (ISO100/m) and can be used in a power ratio from full power to 1/256.
It comes with 58mm, 62mm, 72mm adapter rings as standard and can support up to 77mm filter thread lenses.
The Sunpak Auto 16R Pro is powered by 4x AA 1.5 volt batteries and has a flash duration of 1/200- 1/60,000sec.
You can buy the Sunpak Auto 16R pro here: Sunpak Ringflash Auto 16R Pro Flashgun
Posted: September 29th, 2009 under Products.
Tags: Auto 16R Pro, ringflash, Sunpak
Comments: none