Dörr DAF-14 Ringflash – Canon fit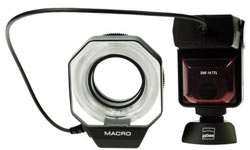 The Dorr DAF-14 Ringflash is ideal for illumination of subjects in the near-and macro range and works in auto exposure using the E-TTL II or iTTL control
It's suitable for digital and film SLR cameras from Canon using the TTL, ETTL, available ETTL II modes.
Features include:
Guide number 14 (ISO100/50mm)
Fully automatic TTL flash control
Automatic TTL workspace 0.9-7m (f/2, 0)
Auto Exposure Confirmation
1/700sec Flash Duration (at full power)
Color temperature 5600K
Connection to the lens filter thread 52mm (Includes adapter rings for 55, 58 and 67mm)
Power supply 4 x AA batteries or NiCd / NiMH batteries
You can buy the Dorr DAF-14 Ringflash here: Dörr DAF-14 Ringflash Canon
Posted: September 29th, 2009 under Products.
Tags: daf-14, door, ringflashh
Write a comment
You need to login to post comments!