SR Electronics RF-50 Ringflash test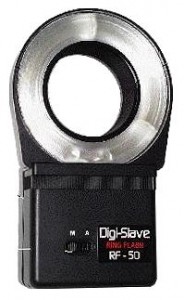 I stumbled upon a review of a ringflash that looks remarkably like a Cobra, Vivitar, Starblitz ringflash. With the guise of digital Digi-Slave. It's by Tom Beardmore and appears on Digital Camera Resource. Tom's sums it up as
Anyone who has a need (or a preference) to photograph close-up subjects should give serious consideration to SR Electronics' RF-50. Although it has a couple of relatively minor shortcomings, it's the best solution (if not the only solution) presently available for digital photographers, and especially for users of the Olympus D-500L, D-600L, or D-620L cameras. Some may think that its $250 price tag is a bit steep, but if the price of the RF-50 is compared to conventional ring flash units, you'll find that it's priced competitively.
It's an in-depth review and is well worth checking out if you intend buying one of these units which can be bought off of eBay or from the company that make them here:
. See the full review here: SR Electronic RF-50 ringflash test
Posted: October 18th, 2008 under Reviews.
Tags: beardmore, cameras, cobra, digi, digital camera resource, ebay, flash units, olympus, rf, ring flash, ringflash, shortcomings, sr electronics, test sr
Write a comment
You need to login to post comments!