Rosco LitePad Loop ring light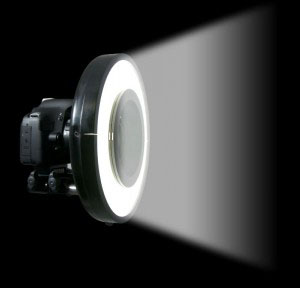 LitePad Loop is a ring light that Rosco have added to their LitePad line of LED lighting.
The LitePad Loop is positioned around the lens of a camera for on-axis lighting. It's just over nine inches in diameter with a four and half inch centre hole. The light inside the ring is Rosco LitePad (known for its flattering, indirect light output)
It comprises two main parts – the Loop with its lightweight plastic housing and the mounting assembly with its 15mm rod support systems. This system is simple by design, easy to use and lightweight. It allows for full control over the position of the Loop in relation to the camera lens and will work with a wide array of still photo, video and film camera systems.
The two parts snap together with high-powered magnets, so no screws or adaptor collars are required.
LitePad Loop is available individually (£499+vat) or in a Pro Kit with additional power and mounting accessories (£789+vat.
LitePad Loop specifications
Dimensions: 231mm (9.1") Diameter x 33mm (1.3") Depth
Weight: 1.1kg (2.4lbs)
Power Consumption: 24 Watts (2A at 12V DC)
Colour Temperature (Approximate): 5,800°K
Lamp Life: 60,000 Hours
Operating Temperature: –30°C – +85°C
Power: 12V DC Input (Global Transformer)
Full details here: Rosco Lightpad Loop
Posted: July 30th, 2012 under News.
Tags: lightpad loop, on-axis lighting, ring light, rosco
Write a comment
You need to login to post comments!