Nissin MF18 ring flash announced
A new ring flash from Nissin has just been announced. It's the MF18 Macro Flash for Nikon and Canon users.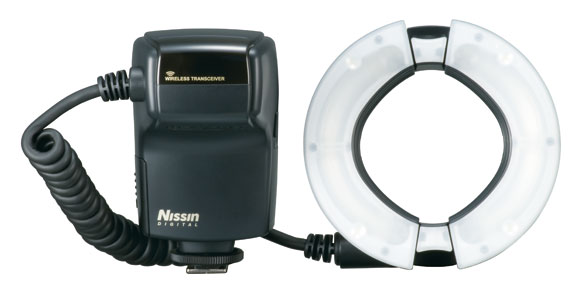 This new addition to Nissin's acclaimed range of flash equipment allows photographers to achieve an even spread of light from their macro work which means an end to overexposed images and removes the problem of ugly shadows. The MF18 Macro Flash is particularly suited to portraiture, either in a studio or on location.
The flash boasts an impressive high power guide number of 16m (100 ISO) and the power ratio can be adjusted down to 1/1024 in the Fine Macro mode. The MF18 also provides a Wireless TTL function enabling the addition of slave flashes. Firmware updates are available directly from the Nissin website via the unit's USB connection.
The flash head extends in diameter and will fit lenses from 49 to 82mm with mount adaptors. 52, 58, 62, 67, 72 and 77mm adapters are included with 49, 55 and 82mm being available as optional extras. The flash is powered by four AA batteries and is also compatible with the Nissin PS300, the Canon CP-E4, the Nikon SD-8A and the Nikon SD-9 power packs.
Kenro managing director Paul Kench made this comment on the release: "Ring flash can be an expensive luxury, but now, thanks to the MF18 Macro Flash, it is within reach of every serious photographer. I'm delighted Nissin have introduced this unit, it's easy to use and produces very impressive results."
The MF18 is available with either a Canon or Nikon fit and has an RRP of £359.99.
To view Kenro's full range, or for details of your nearest stockist go to www.kenro.co.uk – alternatively call Kenro's head office on 01793 615836 for further information.
Posted: December 22nd, 2011 under News.
Tags: nissin, ringflash
Write a comment
You need to login to post comments!