Orbis Arm for Orbis Ringflash adaptor now available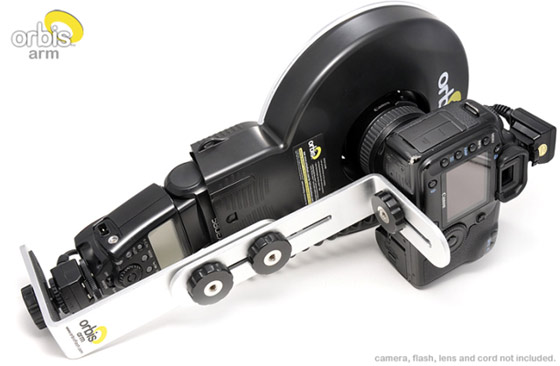 The Orbis Arm that we announced back in August is now available. A month later than expected this mounting bracket enables your flash and Orbis Ringflash adaptor to be mounted together on a tripod. Full details of the release are below:

The orbis arm is an invaluable mounting bracket that makes the orbis even more versatile.
By handholding the orbis you can easily achieve a shadowless, beautiful ring flash effect, or take it off-lens to create a variety of lighting set-ups in moments. But some photographers love shooting exclusively with the orbis on-lens for longer. The orbis arm provides a solid mount for photographers who want to use their orbis in its primary 'ring flash' position for extended shoots. With the arm you can also easily mount the system on a tripod without using an extra light-stand.
The orbis arm is a compact and lightweight mounting bracket designed to work with the orbis ring flash and most of your favourite SLR flashes, cameras and lenses. Built from 6061 aircraft grade aluminium and finished in a smooth powdered silver, the arm extends the possibilities of your orbis, giving you the freedom to shoot on-lens for longer!
Tech Specs:
Fits the orbis and flash to the camera using the solid tripod socket as the attachment point
Six-way adjustable to fit a wide range of gear combinations
Folds down quickly into a compact 'travel mode'
Extensively tested for use and durability
Fully compatible with existing orbis ring flash
Posted: November 13th, 2009 under News, Products.

Write a comment
You need to login to post comments!