Underwater ring flash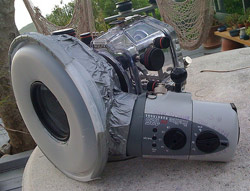 Wetpixel user Marjo saw Alexander's diy underwater ringflash and decided to have a go at making one.
Marjo explained: "I am not sure this contraption will do me any good for photographing fish, but I am determined to try it out for the giggles. It will also be a great piece of high tech gear to pull out of the camera bag to show off in case I meet another snobby photographer unimpressed by my rig"
The detailed creation can be found on the wetpixel site here: DIY Underwater Ringflash

Posted: October 26th, 2009 under Products.

Write a comment
You need to login to post comments!