Sony HVL-MT24AM E17 Macro Twin Flash
Sony users have a really cool macro flash kit available that was originally designed by Minolta. Minolta were ahead of the game and introduced the Minolta Macro Twin Flash 2400 in February 2001, six months before Canon followed with a similar tool.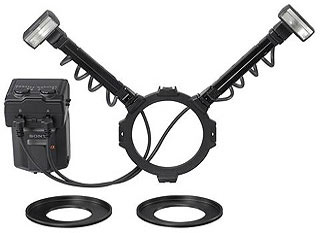 The flash has a MFC-1000 Controller that slips on to the camera's special Dynax fitting flash shoe. This unconventional shoe is still used by Sony.The unit holds four AA size batteries to power the flash and looks like a Dynax flash with a bounce head. Around the back are control buttons similar to the ones you'd see on a conventional flash. It's here where you adjust output exposure mode etc. On the front where the flash tube would normally be are sockets where you plug in the flash. You can either attach a Minolta Macro Twin flash unit T-2400 or Minolta Macro Ring Flash 1200.
Sony users will find the Sony HVL-MT24AM E17 Macro Twin Flash is the same as Minolta's T-2400 but the controller no longer has a socket for a ringflash, Sony have removed this and made a stand-alone and less powereful Macro Ringflash.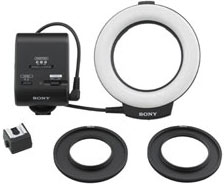 The Minolta Macro Ring Flash 1200 was a conventional ringflash style unit but with four independent tubes that can individually be turned on or off giving far more control of the light than a typical ringflash. The new Sony HVL-RLAM uses white LEDs rather than flash tubes and creates a single ring of light.
The Sony and Minolta Twin flash units have two small flash tubes on extending arms that are mounted on a bracket around the lens allowing the tubes to be individually angled and adjusted to give creative control of the light's postiton.
Both flash systems are lightweight and attach to the lens' filter thread.
Peter Bargh reviewed the Minolta Macro Flash 1200AF for ePHOTOzine in 2001. The Sony unit is identical so it's well worth a look at his review and verdict which summed the system up as: "This flash system is outstanding. Great flexibility and full automated control. " See the review here Minolta Macro Flash 1200AF on ePHOTOzine.
Thanks to Glenn for his additional help in this article.
Posted: January 1st, 2009 under Products.
Tags: HVL-MT24AM, macro flash, Macro Ringflash 1200, MFC-1000 Controller, Minolta, sony
Write a comment
You need to login to post comments!